SeanHoppe.com › EXTOL Errors › HTTP 503 Service Unavailable
HTTP 503 Service Unavailable
Scenario:
When trying to send data via EXTOL Secure the following error occured: HTTP 503 Service Unavailable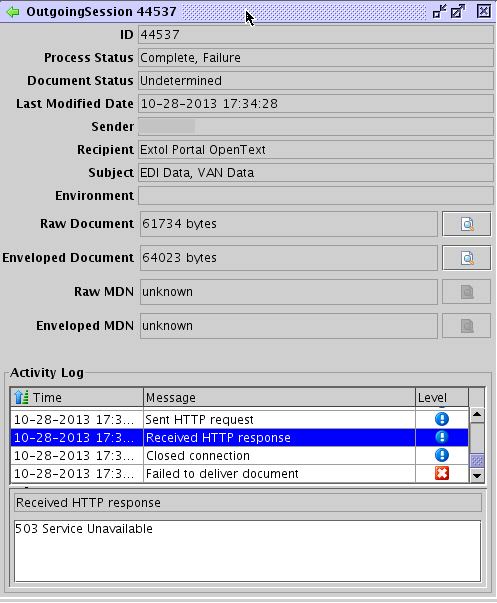 Issue:
According to W3C: The server is currently unable to handle the request due to a temporary overloading or maintenance of the server. The implication is that this is a temporary condition which will be alleviated after some delay. If known, the length of the delay MAY be indicated in a Retry-After header. If no Retry-After is given, the client SHOULD handle the response as it would for a 500 response.
Resolution:
From EXTOL EDI Integrator: Take option #12 from "EXTOL Mailroom Screen" and re-send.
From EXTOL Business Integrator (EBI): Reprocess Data.
From EXTOL Secure (ESX): If an outbound channel is set-up, you can go into 'Sessions', right click on sessions and re-Publish error to correct Channel/Partnership.

To set-up EXTOL Secure to re-send outbound AS2 data





By: Sean Hoppe on