SeanHoppe.com › EXTOL Errors › MDN Integrity Check Failure Error
MDN Integrity Check Failure Error
Scenario:
When receiving AS2 MDN from trading partner: JPMorgan/Chase, we received a 'bad' MDN indicating Integrity Check Failed
Issue:
We are using the incorrect hash algorithm to sign the AS2 S/MIME data when sending.

Error Message :: Server Log
Established connection(ftscat2.mfts.jpmchase.com:10443)
Sent HTTP request
HTTP/1.1 200 OK
Server: Apache-Coyote/1.1
AS2-To: XXXXXXXXXXXXXXx
MIME-Version: 1.0
AS2-From: FTSEAS2QA_ftse8842
AS2-Version: 1.1
Subject: Your Requested MDN Response
Date: Tue, 06 Oct 2015 11:58:26 GMT
Server: Axway SecureTransport
From: [email protected]
Content-Type: multipart/signed;boundary="----=_Part_225758_7380376.14441

------=_Part_225757_16718138.1444132706026
Content-Type: message/disposition-notification
Content-Transfer-Encoding: 7bit

Reporting-UA: Axway SecureTransport
Original-Recipient: rfc822; FTSEAS2QA_ftse8842
Final-Recipient: rfc822; FTSEAS2QA_ftse8842
Disposition: automatic-action/MDN-sent-automatically; processed/Error: integrity-check-failed

Error Message :: Client
Resolution:
In ESX Partnership setup we need to update the hash algorithm. In our set-up we were using SHA-256 and needed to use SHA1.
BEFORE:
AFTER: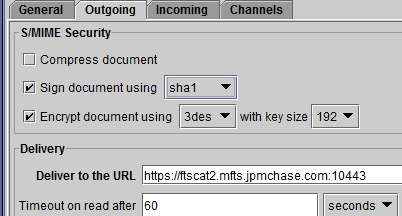 By: Sean Hoppe on